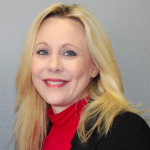 Ms. Carlberg received her J.D. from Western State University College of Law in Fullerton, California in 1996, graduating from Western State University Summa Cum Laude and was the valedictorian of her class. During law school Ms. Carlberg received 14 American Jurisprudence Awards, an LSAT scholarship based upon a high LSAT score, a college scholarship award based upon a 4.0 GPA from undergraduate, and a Director's Scholarship based upon obtaining the highest class ranking after one year of law school. Ms. Carlberg was selected for a Court of Appeal Internship with Justice Edward J. Wallin and she was placed on the Dean's High Honors Roll for every semester of law school. She was also a member of Law Review where she was a Staff Editor, Research Editor, and Production Editor. Ms. Carlberg co-authored a special project article published in 1996 in the Western State University Law Review relating to Proposition 209.
Ms. Carlberg became a member of the Bar of the State of California in 1997, passing the exam on her very first attempt. She has practiced law in California since 1997, originally as an associate at the law firm of Stevens, McGuire & Rizio from 1997 to 2001. Thereafter, Mr. Stevens and Ms. Carlberg left the firm of Stevens, McGuire & Rizio to open the law offices of Stevens & Carlberg. Ms. Carlberg has been handling employment litigation matters since 1997 and has been representing plaintiffs exclusively in employment law matters since 2002. Ms. Carlberg recently opened her own practice, The Law Offices of Janeen Carlberg and is doing extremely well.
Ms. Carlberg is a member of the State Bar of California, the Orange County Bar Association, and the California Employment Lawyers Association ("CELA").
If you feel like your rights may have been violated, call us now at 714-665-1900 for a FREE CONSULTATION with NO RECOVERY – NO FEE (No Up-front Costs, Fees or Charges)
Monday – Friday 8:30 am to 5:30 pm